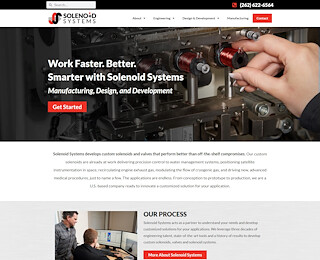 Top Benefits of Low Pressure Molding with Solenoid Systems
Solenoid Systems has built a solid reputation as an industry leader in designing and manufacturing electromagnetic actuation systems, but one area that has been drawing considerable attention is our expertise in Low Pressure Molding. Our technology sets the gold standard for encapsulating sensitive components in a highly controlled, low-pressure environment. But what exactly is Low Pressure Molding, and why should you consider it for your next project? As we delve deeper into this topic, we invite you to explore the compelling benefits that make our service truly exceptional.
Why Low Pressure Molding is Reshaping Manufacturing
Low Pressure Molding is a transformative process that is revolutionizing the manufacturing world. It combines the advantages of hot-melt adhesives with injection molding to create an integrated process that is quicker, safer, and more cost-effective. This technology is ideal for encapsulating sensitive electronics or sealing critical components. At Solenoid Systems, our Low Pressure Molding solutions offer a significant leap in product reliability, durability, and overall quality.
The Science Behind the Process
Understanding the fundamental mechanics of Low Pressure Molding is crucial for comprehending its efficacy. Essentially, it involves injecting a hot-melt adhesive into a mold cavity, which then cools and solidifies to encapsulate the component within. The key is the low-pressure injection, which ensures that sensitive components are not damaged. Solenoid Systems takes this process to the next level by utilizing cutting-edge technology and high-grade materials to ensure precision and reliability.
A Wide Array of Applications
The adaptability of Low Pressure Molding is one of its most appealing attributes. This process is widely utilized in a myriad of industries such as automotive, medical, and consumer electronics. Whether you need to encapsulate circuit boards, protect delicate sensors, or seal LED components, Solenoid Systems has a Low Pressure Molding solution that can meet your specific needs.
Material Selection and Sustainability
At Solenoid Systems, we place a strong emphasis on the choice of materials used in Low Pressure Molding. Not only do we source high-quality, sustainable materials, but we also offer a range of options tailored to specific applications. From bio-based adhesives to specialized polymers, we ensure that our solutions are both effective and environmentally responsible.
Tailored to Your Specifications
One of the major benefits of choosing Solenoid Systems for your Low Pressure Molding needs is our commitment to customization. Our team of expert engineers and designers work closely with you to create a solution that perfectly fits your unique requirements. This highly personalized approach sets us apart in the industry and guarantees customer satisfaction.
Optimizing for Cost-Efficiency
It's not just the quality of our Low Pressure Molding that sets us apart, but also the cost-effectiveness. This process significantly reduces the material waste associated with traditional molding methods, thereby making it a more economical choice. Solenoid Systems has further optimized this advantage through our streamlined operations and bulk purchasing options, passing the savings onto you.
Quality Control and Compliance
Quality is an intrinsic part of our company culture. Every Low Pressure Molding project undergoes rigorous testing and quality checks to ensure that it meets both internal and external standards, including ISO certifications. When you choose Solenoid Systems, you're choosing a partner committed to delivering exceptional quality.
Continuous Innovation
The technological landscape is ever-changing, and so are we. Our ongoing investment in research and development ensures that we stay ahead of the curve in Low Pressure Molding advancements. From new material formulations to advancements in mold design, we're continuously pushing the boundaries to provide our clients with the best possible solutions.
Customer Support and Aftercare
We pride ourselves on offering unparalleled customer support. From initial consultations to post-project support, our team is dedicated to ensuring your complete satisfaction. Should you encounter any issues or require further customization, we're just a phone call or email away.
In today's fast-paced and ever-evolving technological environment, it's crucial to partner with a company that not only understands your immediate needs but also your long-term objectives. Solenoid Systems offers you not just a product or a service, but a committed partnership. Our Low Pressure Molding solutions are designed to provide not only top-notch quality but also cost-effective, sustainable options for today's challenges. If you've been pondering how to make your manufacturing process more efficient, more reliable, or simply better, a conversation with our specialists might just be the answer you've been seeking.