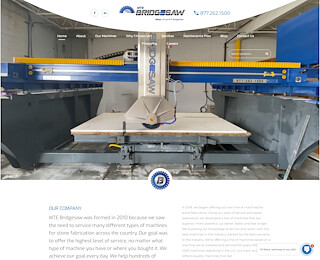 A granite cutting saw is a piece of specialist equipment used to cut stone. Masons and other specialists that work with stone frequently utilize these saws. There are numerous types of stone bridge saws on the market, making it difficult to determine which one is best for you. Here is everything you need to know about granite bridge saw to help you make an informed decision.
The Benefits of Using A Granite Bridge Saw
A stone and granite bridge saws are specialized pieces of technology used to shape and size stone slabs. Bridge saws are crucial tools for any stone working company, from tiny fabrication shops to large-scale quarries. They have several advantages over standard saws, including increased productivity, precision, and versatility.
The most crucial advantage of employing a bridge saw for marble and granite is that it can help to increase safety. Bridge saws can help to lessen the risk of injuries by reducing the need to handle dangerous and heavy equipment. Furthermore, they provide a number of other advantages that make them an indispensable tool for professionals who work with stones.
How to Use A Granite Bridge Saw Efficiently and Safely?
There are safety guidelines to remember when operating a bridge saw in order for its operator to stay safe and work efficiently. First and foremost, always ensure that the granite cutting saw is well-calibrated before using it. This ensures that the blade is cutting at the proper depth and angle. Second, when using the saw, always wear suitable safety equipment like safety glasses, gloves, and a dust mask. Finally, in order to avoid mishaps, make sure to properly follow the manufacturer's recommendations.
How to Choose the Right Granite Bridge Saw
When it comes to selecting the right granite cutting saw for your need, there are a few factors to consider. The size of the bridge saw is perhaps the most crucial consideration. You must ensure that the saw you select is large enough to handle the material you will be cutting. Another crucial factor to consider is the power of the saw. If you plan on cutting hard or thick materials, you'll need a powerful bridge saw.
Finally, you should think about the features of the saw. Some saws have extra functions, like dust collection and angle adjustment, that can be valuable depending on your needs. By considering these factors, you can be certain to select the best granite bridge saw for your needs.
Shopping for the Best Bridge Saws and CNC Machines
Do you need a high-quality wholesale bridge saw? Look no farther than our finely designed wholesale CNC bridge saws. BridgeSaw.com carries a wide range of bridge saws for a wide range of cutting applications. Our machines are built with precision and attention to ensure the most accurate cuts every time. Furthermore, our friendly and skilled customer support team is always there to assist you with whatever you require. Our CNC saws will meet all of your fabricating demands. So, why delay? Order your granite cutting saw right away